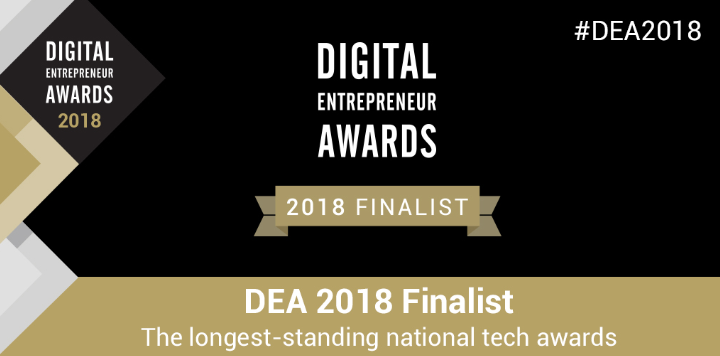 ILG Business Ltd Shortlisted for National Digital Awards
Today, ILG Business Ltd has been shortlisted as a finalist for the Most Innovative use of Digital Technology at the 2018 Digital Entrepreneur Awards (DEAs).
ILG Business is a British, multinational company headquartered just outside Tunbridge Wells, Kent.  We design, develop and sell Business/Sports computer software, also supplying online cloud services and applications for iOS and Android devices.  Our best-known products are the business platform ILG Sports, paperless forms software and mobile device management.
The DEAs are the only national awards dedicated to championing digital entrepreneurialism and innovation across the UK.
Donna Trahar, Head of Partners said: "We are very honoured to be awarded finalist in this very competitive category. It is a massive achievement that the whole team should be recognised for all their effort and also be proud of"..
The finalists beat off competition from hundreds of businesses that entered, across 20 award categories.
The awards, now in their 14th year, cover categories encompassing every component of today's online business ecosystem.  From enigmatic leadership to forward-thinking development and cutting-edge creative. Categories include Social Media Campaign of the Year, Most Innovative use of Video or Animation and the coveted Digital Entrepreneur of the Year award.
Previous winners of the awards span a range of sectors, from retail giants like Sainsbury's and Mothercare to smaller, more agile digital specialists like Social Chain and Clicky Media.
Among the judging panel are Jacqueline de Rojas, president of techUK and chair of the Digital Leaders Board; Heather Waters, enterprise manager at NatWest; Vikas Shah, CEO of Swiscot Group; Susie Ma, founder and CEO of Tropic Skincare; Naomi Timperley, co-founder of Tech North Advocates and chair of Capital Pilot; and Jon Woodall, founder & managing director of Space 48.
One of the UK's true tech heavyweights joins the judging panel this year. President of techUK and chair of Digital Leaders, Jacqueline de Rojas serves on the government's Digital Economy Council and is an advisor to a number of fast-moving tech companies.
Commenting on the DEAs, de Rojas said: "We are known as a nation of innovators and of entrepreneurs. It is quite simply a privilege to judge the technologies and innovators at the frontier of change.
"The UK is a nation of technological significance and shining a light on entrepreneurship in this space is a way of investing in our digital future.
"I have seen the smallest of changes make the biggest of differences and I am delighted to see the creativity of our digital entrepreneurs fixing real-world problems that are worth solving."
Find out More!
Visit https://www.digital-entrepreneur.co.uk/ for a full list of finalists or for details on how to book a table at the final ceremony. Also visit: ILG Business Ltd to find out more about us.